Each jar contains 32 ounces of Irish sea moss gel. Try it in your smoothies, teas, dressings and more. Each jar should last about 4 weeks taking 2 spoonfuls daily.
Sea Moss offers 92 of the 102 minerals of which the body is composed of.
Nourishes the skin
Boosts the Immune System
Purifies the blood, helps regulate blood pressure for a healthier heart
Aids in Weight Loss
Alkalizes the Body
Helps Lung & Thyroid Issues
Improves Vaginal Health
Boost sex drive
Related Products
Sale!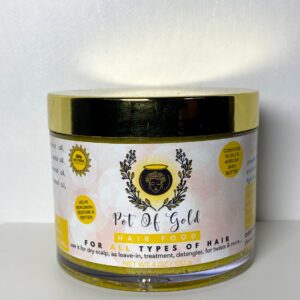 OUR POWERFUL NATURAL INGREDIENTS STIMULATE  HAIR GROWTH BY GETTING DEEP INTO THE FOLLICLES, MOISTURIZING YOUR HAIR AND REDUCING BREAKAGE. IT'S  SMOOTH CREAMY TEXTURE MAKES POT OF GOLD'S HAIR FOOD VERSATILE  TO USE IN MANY WAYS. A LITTLE GOES A LONG WAY.